CARROLLTON, GA –  It took a grueling 16 rounds before the Carrollton City Schools 2020 Spelling Bee Champion was decided Tuesday afternoon – with eighth grader Joshua Chism crowned the winner when he seized the "opportunity" to be a part of the "archives" of the best spellers in Carrollton City Schools history.
Battling in the final rounds with runner-up Duncan St. John, a Carrollton Upper Elementary fifth grader, Josh ultimately secured the title when he correctly spelled first "archives" then "opportunity."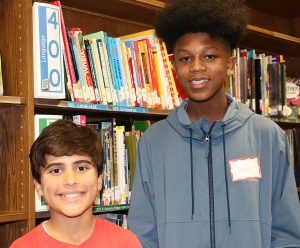 Josh Chism, right, was crowned the 2020 Carrollton City Schools spelling champion in Tuesday's system spelling bee. At left is Duncan St. John, who came in second and was named runner up. The district spelling bee will be held Feb. 22 in Decatur.
Duncan, however, was a formidable challenger and will be the alternate speller at region if Josh is unable to compete. Region will be held Saturday, Feb. 22, in Decatur. The local bee is sponsored by the Carrollton Association of Educators while the region and state bees are sponsored by the Georgia Association of Educators.
Before the intense final rounds, a total of 10 grade-level winners and runners up competed. The other spellers were Gunner Hatch and Xander Adams, fourth grade; Claire Dalton, fifth grade; Marie Fujita-Block and Mikaylah Davis, sixth grade; Darius Mekande and Jival Patel, seventh grade; and Edward Kenyon, eighth grade.