The City Of Temple acknowledged a Temple High School Senior who accomplished some impressive feats on the wrestling mat.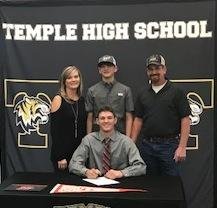 John Austin Robinson was the victor in 31 matches this year with 29 pins. he became only the second state champion wrestler from Temple High.
Mayor Michael Johnson read a proclamation honoring Robinson, during Monday's meeting of city council.
Robinson is also be the first Temple High student to receive a wrestling scholarship. He will attend Huntington University in Virginia in the fall.