A Deacon for a Haralson County church has been charged with 19 felony counts of possessing or controlling material depicting minors in sexually explicit conduct after deputies say they recovered thousands of images.
66-year old Robert Scott Sims was booked into the Haralson County Jail Friday. A judge set his bond at $142,500.
Sims has been a Deacon at Buchanan First Baptist Church.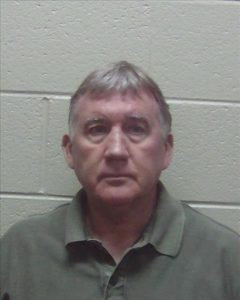 "The arrest is the culmination of a six month long investigation by the Haralson County Sheriff's Office," Investigator Heather Mecillas told WLBB Radio. "The case originated with a cybertip sent to the Georgia Bureau of Investigations Child Exploitation and Computer Crimes Unit and from there was assigned to the Georgia Internet Crimes Against Children Task Force Affiliate, an Investigator at the Haralson County Sheriff's Office.
Through the investigation, Mecillas took the limited information from the cybertip and developed leads that lead to Sims and the discovery of images that are classified as CSAM or Child Sexual Abuse Material. During the last four months, she  went through thousands of CSAM images that were in an account belonging to Sims.
This is a case involving internet based crimes with no local victims.
"We partner with many state and federal agencies and these partnerships provide training and other resources for us. The investigator who worked this case gets training from the Georgia Bureau of Investigators Internet Crimes Against Children Task Force several times a year and they provide her with equipment to better help her do her job and protect the citizens of Haralson County," Sheriff Stacy Williams said. "We are fortunate to have two ICAC investigators at our department and the work they do is very much appreciated."