CARROLLTON, GA –  Carrollton High School will be one of the first in the state to roll out an eSports coed team sanctioned by the Georgia High School Association.
David Brooks, CHS principal, said school administration already had been looking to add the popular competition sport, also known as online gaming, as a way to get more students involved in extracurricular activities.
"We had already planned to compete through a relationship with the National Federation of State High School Associations, so we were excited when GHSA decided to sanction it as a competition activity here in Georgia and now our students will have an opportunity to compete for a state championship through this traditional route."
Robby Blakemore, a computer science teacher at CHS, will be the team sponsor/coach.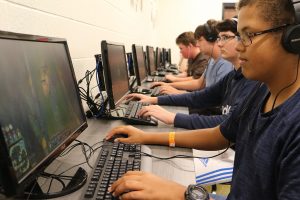 Students in Robby Blakemore's fourth block computer science class demonstrate the potential format of an eSports competition.
"There is a big buzz about this at the school," he said. "Students already are competing in this sport as individuals, so adding a team here at Carrollton is a natural."
The eSports industry is growing exponentially, according to a recent report in the Washington Post that stated nearly 75 percent of young Americans ages 14-21 have either participated or watched multiplayer games online over the past year.
Dr. Mark Albertus, superintendent of Carrollton City Schools, said having students "plugged in" who typically would not participate in school-sponsored activities outside the classroom is a strong reason to add the sport.
"Their interest in eSports and the resulting exposure to computer programming is another aspect that introduces them to a career pathway they may not have considered," he said. "Mr. Blakemore will build relationships with these kids as a coach that may lead them ultimately to taking his Advanced Placement computer programming class."
Paul Fitz-Simons, CHS athletic director, said GHSA will release next week details of the competition structure. He said the general understanding at this point is there will be two seasons, one in the fall and one in the spring, and students will compete at their school sites against other school teams.
Blakemore said the latest in technological innovations incorporated in Phase II of the new high school is well equipped to handle the demands of eSport competitions.
"It is also important for people to understand that eSports teaches the same character strengths as other sports – leadership, collaboration, communication – without the perspiration," he said.