CARROLLTON, GA — A Carrollton High School student inspired by the global pandemic recently entered her artwork in the Hughston Foundation Art Gala and placed second out of more than 300 entries.
Hailey Jackson said she began taking art more seriously at the end of middle school.
"I started trying to learn how to draw and after a few years of practicing I began to paint in 8th grade," said Hailey. "I painted with acrylic paint for the most part until my sophomore year of high school. Ever since then I've been trying to perfect my skill in oil paints. I enjoy learning new techniques and mediums in my artwork."
Jake Richardson teaches visual arts at CHS and said Hailey is one of the most naturally talented students he has had in his sixteen years of teaching.
"I know the pieces she created for these two entries were not easy," said Richardson. "I am so appreciative of her hard work and willingness to put her artwork out there. Hailey's future is bright in the visual arts and beyond."
Hailey said the theme for the competition was based on medicine, and she immediately knew she wanted to paint a piece in honor of healthcare workers.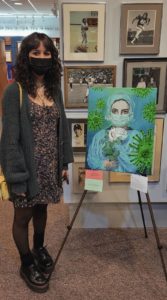 Carrollton High School student Hailey Jackson poses with her piece "The Courageous One" at the Hughston Foundation Art Gala. Hailey placed second in the competition and received the "Best in Show" recognition.
"Healthcare workers were and still are facing struggles because of the pandemic," said Hailey. "The flowers in the painting resemble the beauty of them being brave enough to help others in this hard time. I tried to convey emotions that we've all felt during this pandemic."
Hailey said she hopes to study fine arts in college and possibly be an art professor.
"As far as my future goes, I would love to continue entering more competitions, doing some commission work, and continuing to practice my skills," she said. "I'd like to study fine arts in college and maybe be an art professor one day. But, regardless of the career I end up with, I'll always keep art in my life."