CARROLLTON, GA – Carrollton High School Performing Arts captured the Region 7-AAAAA title in the Georgia High School Association One-Act Play competition held last Saturday in Cartersville, with the three lead characters also earning region All-Star Cast honors.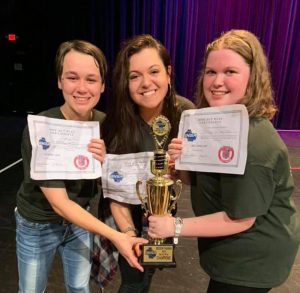 CHS seniors Anna Lowry, Taylor Mancil and Mattie Steed played three women in "On the Verge or the Geography of Yearning" by Eric Overmyer. In this play, the women, each an intrepid world explorer in her own right, band together to conquer Terra Incognita, the last and most mysterious of unexplored territories. On this one-way journey through space and time, each lady discovers her own unique destiny in the beautiful, loud, and brightly lit future. For their outstanding performances, Anna, Taylor and Mattie were named to the region All-Star Cast.
"The cast and crew of 'On The Verge' did a tremendous job at the region competition and I couldn't be prouder of their hard work," said Tommy Cox, Performing Arts director. "Each member of the ensemble is fully committed to bringing the best possible product to the stage every night. I think Saturday's performance was their best yet. The judges were especially complimentary of our use of actors creating the scenery throughout the show. I'm looking forward to representing Region 7  this Saturday at state."
State competition will be held this Saturday, Nov. 2, at Houston County High School in Warner Robins.
CHS is scheduled to compete at 6:45 p.m. Admission is free.