(January 13, 2020, Carrollton, Georgia). Central High School students Hayden Hall and Janae Jackson were honored earlier this year as school-level winners of the Wendy's Heisman High School Scholarship recognition program. The Wendy's High School Heisman Scholarship was created in 1994 by Wendy's founder Dave Thomas in partnership with The Heisman Trophy Trust. From its inception, the program has leveraged the reputation of the Heisman Memorial Trophy as a symbol of great ability combined with diligence, perseverance, and hard work. The Heisman High School Scholarship program honors the nation's most accomplished, community-minded high school senior athletes, by inviting students from across the country to share their stories of leadership and impact. The program aims to inspire all students to harness their potential, push their limits, and use their talents not only to advance their own futures, but to improve the communities and world around them.
written by: Linda Morris, Central High School
Media Specialist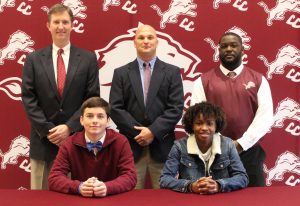 Pictured seated are Hayden Hall and Janae Jackson. Standing is Principal Mr. Jared Griffis, CoAthletic Director and Head Baseball Coach Wes Shiver, and Co-Athletic Director and Head Football Coach Darius Smiley.