CARROLLTON, GA — The Carrollton City Schools Education Foundation recently announced the creation of a new scholarship in memory of Jason Rowell, a police officer and school resource officer who lost his battle with cancer earlier this year.
The Officer Jason Rowell #208 Memorial Scholarship honors the life and legacy of Rowell. Jason grew up in the West Georgia area, where he served in law enforcement. He was a fixture at Friday night Trojan football games and a daily friend and role model. In addition, he had a love of music and volunteered his time with Bert's Big Adventure, mentoring children with chronic and terminal illnesses.
The award was started by his wife, Amy, and honors his contributions to the Carrollton community to inspire students to pursue law enforcement, military, or criminal justice careers.
"I think Jason would be honored to know that every year he is still giving to the community he loved," she said. "It's easy to picture the type of student he would have liked to receive the scholarship — he would want someone who works hard. Not someone who necessarily has straight A's, but someone who works hard and doesn't cut corners. Jason was a very hard worker and took pride in everything he did."
Some of the requirements for the scholarship include a minimum GPA of 2.5, good academic and disciplinary standing, and a one-page essay that discusses what it means to be joyful.
Amy noted Jason's ability to find joy despite difficult circumstances and said she looks forward to learning about students who do the same when facing obstacles.
"Even amongst the hardships that he faced, Jason found joy," she said. "Joy and happiness are different. He wasn't always happy about his situation, but he was joyful. I hope to read about how others have found joy in difficult situations. It will keep his memory alive for many years!"
To learn more about this scholarship and others offered at Carrollton City Schools, visit https://www.carrolltoncityschools.net/community/foundation/scholarships.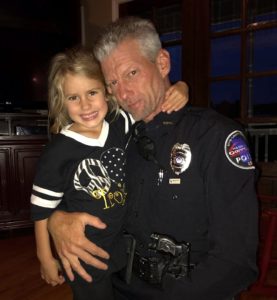 Officer Jason Rowell is pictured with his daughter, Ava, a student at Carrollton Elementary School.