CARROLLTON, GA – Two  Carrollton High School techies have qualified to compete at the state level after winning first place in the West Georgia Technology Competition held Jan. 17 at the Carroll County Center for the Performing Arts. The balance of CHS competitors earned alternate status for placing second.
The team of Kayla McGuinn and Jennifer Sanchez won the top prize in App Design for creating Piano Sights, an app that teaches how to sight read for a piano. With their first-place finish, the duo automatically qualifies for the March 14 state competition to be held at the Macon campus of Middle Georgia State University.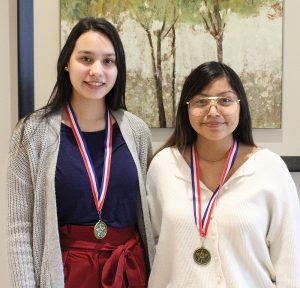 Carrollton High School junior Kayla McGuinn and senior Jennifer Sanchez received the top prize for their app Piano Sights, qualifying for the state competition to be held March 14 at Middle Georgia State University in Macon.
Six other CHS students are designated state alternates for their second-places finishes: Taniyah Powell, Graphic Design; Kishan Patel and Matthew Harvey, Device Modification; Wilson Brown, 3D Modeling; Richard San Nicholas, Photo Production; and Benjamin Scholl, Digital Game Design.
Carrollton Upper Elementary School also produced a first-place finisher, Aileen Yanney, for her win in Device Modification. Other CUES students who placed are Carson Houck, second in Digital Game Design; William Rogers, third in App Design; and Catherine Couch and Tatiana Piotrowski, third in Animation. Reese Walker, Sara Lane and Camren Harley all received honorable mentions. One Carrollton Junior High student, seventh grader Adriana Yanney, placed third in Animation.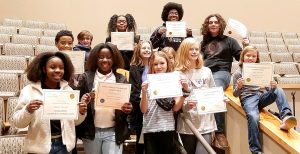 Carrollton students who earned accolades at the West Georgia Technology Competition pose for group photo following the Jan. 17 competition. 
The West Georgia Technology Competition (formerly the West Georgia Technology Fair) is an annual technology competition for students who attend public schools, private schools, and home schools in Carroll County, Carrollton City, Coweta County, Fayette County, Griffin/Spalding, Harris County, Heard County, Meriwether County, and Troup County.