The Ohio-class ballistic-missile submarine USS Alaska (SSBN 732)(Gold) held a change of command at Naval Submarine Base Chapel, Kings Bay, Georgia, May 31.
Cmdr. Eric Cole, a native of Carrollton, Georgia, was relieved by Cmdr. Adam Thomas, from Ann Arbor, Michigan, as commanding officer of the Alaska Gold Crew.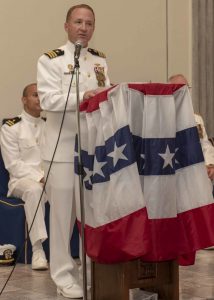 Rear Adm. Jeff Jablon, Director, Military Personnel Plans and Policy Division and former commander of Submarine Group 10, was the guest speaker at the ceremony.
"Under Eric's command, from deployments and maintenance periods, to inspections and certifications, Alaska constantly rose to the challenges placed in front of her," said Jablon. "Commanders, like Eric Cole, ensure that our submarines here at Kings Bay are combat ready to preserve the peace at all times and can execute that mission."
Cole lauded his crew and the strength of the Alaska team.
"The Alaska family is not just words," said Cole. "Gentlemen, you have not only done your job but you have done it better than anyone else. Continue to push each other and there is not a single thing you be will be unable to achieve."
Alaska was the first ballistic-missile submarine to carry out a Trident II D5 Life Extension Commander's Evaluation Test, culminating in the successful launch of four test missile. Ballistic-missile submarines are capable of carrying 20 submarine-launched ballistic-missiles. The boat is homeported at Naval Submarine Base Kings Bay, home to all East Coast ballistic and guided-missile submarines.
Thomas previously served as the executive officer on USS Nevada (SSBN 733) in Bangor, Washington and stressed the importance of the SSBN mission of strategic deterrence and Alaska's role in its execution.
"It is because we're always ready to fight and win in combat that we create peace as the outcome," said Thomas. "It's because of warfighting excellence that Alaska will continue to protect the peace, guarantee our country's position of strength and protect our freedom into the future."
Cole's next assignment will be at the U.S. European Command, in Stuttgart, Germany.
Alaska, commissioned January 25, 1986, is the fourth U.S. Navy ship to be named for the state of Alaska and the seventh of 18 Ohio-class submarines.
PHOTO CAPTION:
(May 31, 2019) Cmdr. Eric D. Cole, outgoing commanding officer of USS Alaska (SSBN 732) (Gold) speaks during a change of command ceremony. Cmdr. Adam J. Thomas relieved Cole as commanding officer of Alaska (Gold). The boat is homeported in Naval Submarine Base Kings Bay, home to all East Coast ballistic-missile submarines.