Investigators say a 72-year old Carrollton man died during a house fire on Brookwood Drive in the North Point Grand Subdivision early Sunday morning.
Carrollton Fire Chief Jimmy Bearden said 911 was notified of the fire around 6:45am.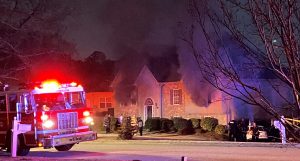 "The man's family was awoken by the smoke alarm going off," Bearden said. "The victim lived in the basement portion of the home. His family attempted to get to him after hearing the alarm but they found the fire and smoke were too intense."
Bearden says multiple other family members were inside the home at the time of the fire. They escaped without injury.
The victim has been identified as John Stembridge. His family is aware of his passing.
The cause of the fire remains under investigation. The official cause of death has not been released at this time.