CARROLLTON, GA – The Carrollton High School literary team earned qualifying scores in all but three of 12 competition categories, securing the region 5-AAAAAA championship last Thursday at the Mabry Center for the Arts. Half were first-place honors while the team also earned points for two second-place events and one third place. In literary, points accumulate for place finishes in a variety of performing, writing, and speaking competitions.
In voice performance, the boys quartet of seniors Coleman Adkins, Tony Fulbright, junior De'Montae Williams and sophomore Tai Jackson placed first. Tai also won the top honor in boys solo. The girls trio of juniors Natalie Johnson, Georgia Kingeter and sophomore Madison Brown placed second. In girls solo, senior Bailey Doxey placed third.
In oral performance, Junior Tyler Grubbs placed first in the humorous category. Seniors Emma Camp and Kayla Batchelor also earned top honors in the duo category. Senior Alec Siek placed first in extemporaneous speaking.
Other first-place finishers were junior Mark Zimmer in personal essay and freshman Edward Kenyon in argumentative essay.
Other literary team members who competed were Olivia Berry, Javier Lopez Miranda, Andy Herndon, Jack Cox and Lydia Baldizon.
The team will now compete for the state crown Saturday, April 24, at Buford High School. Carrollton last won the region title in 2016 as an AAAA school and the state AAA literary title in 2011. In 2019, even though the team didn't win region, it ended up with a third-place finish at state, bolstered by top performances from region first-place winners who were able to attend even though the team as a whole didn't qualify. That year at state, Carrollton brought home a first-place in girls trio, a runner-up in girls solo, a third place in dramatic interpretation, and a runner-up finish in extemporaneous interpretation by then-sophomore Alec, who is a senior this year competing in the same event.
CHS debate coach Richard Bracknell, who also assists in coaching the literary team, said it is critical for point accumulation to earn the higher places in order to capture the region title or the state crown. The other coaches for the team are Tommy Cox, performing arts director; and Julie Lowry, CHS choral director and voice instructor. They all depend on Terri Fazio, performing arts assistant, for administrative tasks and music accompaniment.
Other teams in the 5-AAAAAA region are Alexander, Dalton, Douglas County, East Paulding, Paulding County, Rome and South Paulding. Because of the COVID-19 pandemic, Georgia High School Association literary events were canceled for 2020, so no region or state literary awards were issued last year.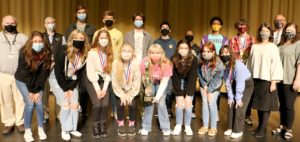 The 2021 Carrollton High School literary team will travel to Buford High School Saturday, April 24, to compete for a state title. Front row, from left, are Olivia Berry, Madison Brown, Natalie Johnson, Georgia Kingeter, Bailey Doxey, Lydia Baldizon, Emma Camp, Kayla Batchelor; team members; Terri Fazio, performing arts assistant/accompanist; and Julie Lowry, choral director. Back row: Tommy Cox, performing arts director; Richard Bracknell, debate coach; Edward Kenyon, Alec Siek, Mark Zimmer, Javier Lopez Miranda, De'Monte Williams, Coleman Adkins, Tai Jackson, team members; and David Brooks, CHS principal. Not pictured are Jack Cox, Tony Fulbright, Tyler Grubbs and Andy Herndon.