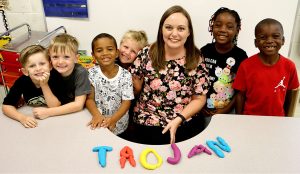 CARROLLTON, GA – Earlier this school year, Niche.com announced its overall assessments of school systems across the nation, with Carrollton City Schools ranking as the eighth best public school district in Georgia. A deeper look at the organization's research also reveals its review of districts in six specific categories, including which schools have the best teachers – a known component that reflects educational quality. Carrollton City Schools posted strong results in this segment as well, earning a rating of ninth best statewide.
Individually, Carrollton Junior High School took the top spot in the district by placing third in the state of 520 ranked middle schools. Carrollton Middle School placed 27th and Carrollton Elementary at 100th among 1,234 ranked elementary schools, and Carrollton High School placed 103rd out of  413 ranked high schools.
To determine the Best Teachers ranking, Niche reviews a variety of metrics to establish its ranking outcome. Thirty percent is based on state assessment proficiency and survey responses on academics from students and parents. Parent/student Niche general surveys on teachers make up 25 percent of the score, followed by teacher absenteeism at 15 percent, teacher salary index at 10 percent, and the percentage of first/second year teachers at 10 percent. The last considerations are average teacher salary and student-teacher ratio at 5 percent each.
"It goes without saying quality teachers are critical to our mission to provide an exceptional education at Carrollton City Schools," said Dr. Mark Albertus, superintendent. "It is especially gratifying to see Carrollton Junior High receive such a high ranking, which means the school's focus on success for all students, coupled with positive reviews from stakeholders, makes a difference."
Albertus noted this particular Niche ranking is significant because research shows that student success is directly correlated to the quality of the teacher. With top-tier performances at all four schools in the Best Teachers ranking, he said parents can feel confident about their children's placement in any district classroom.
"As a school system, we place great emphasis on continuous improvement, teacher development, and providing a challenging curriculum," said Albertus. "While we often talk about graduation rates and post-secondary preparation, this success could not be possible without the high-quality teachers from prekindergarten onward and their commitment to this end result."
Niche develops district rankings in six categories. According to its website, Carrollton City Schools ranks second in Georgia for Best Districts for Athletes, second for Most Diverse Districts, sixth for Best Places to Teach, ninth for Best Teachers, 11th for Safest School Districts and eighth for Best Districts overall. Carrollton City Schools was compared to 183 public school systems across Georgia.
Niche's 2019 Best School Districts ranking rankings combine rigorous analysis of data from the U.S.  and state Departments of Education for factors like academics, teachers, culture & diversity and more with millions of reviews from students and parents about their local schools. To learn more, visit https://www.niche.com/k12/rankings/
Written by Julianne Foster; Director of Communications, Carrollton City Schools