CARROLLTON, GA – After two years of coming in a close second, the Carrollton High School academic team earned the title of champion in the Jimmy Carter Historic Site Academic Competition Wednesday in Plains. In this "history bowl" event, Carrollton went undefeated in all rounds, beating Starr's Mill twice to win the championship. CHS history teacher Dr. Kurt Hitzeman, who participated himself as a student in the first competition in 1998, said CHS senior Edward Bohannon was deemed the MVP. "He really knows his stuff," said Hitzeman.
A total of 20 high school teams competed.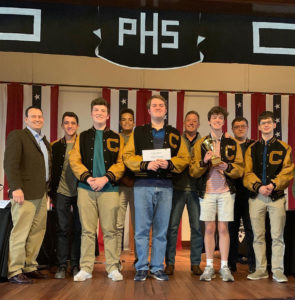 From left are Scott Hobson, coach; Justin Jones, Andy Herndon, Tristan Parker, Eli Nunez, competitors; Dr. Kurt Hitzeman, coach; Edward Bohannon, John Robert Ray, and Peter Ivester, competitors.