(Carrollton, Ga. – December 5, 2019) Carroll County School System was recognized by the Georgia School Board Association (GSBA) for innovative practices and for being a leader in preparing students for a global market. A new award category for 2019, the Leading Edge Award, was presented to Carroll County Schools at the Annual GSBA Winter Conference.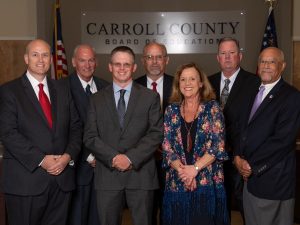 "Carroll County continues to lead the way as a premier school system," stated Mr. Scott Cowart, Superintendent of Carroll County Schools. "We are proud to be selected as one of GSBA's inaugural recipients of this award for the innovative opportunities we provide to our students. This award is a direct result of the creative efforts of our teachers, schools, and district leaders."
GSBA selected school systems based on one of the seven components of the Georgia Vision Project, or communications and messaging best practices. The areas are:
Early Learning & Student Success
Teaching & Learning
Teaching & Learning Resources
Human & Organizational Capital
Governance, Leadership & Accountability
Culture, Climate & Organizational Efficacy
Financial Resources
Communications & Messaging
Mr. Bart Cater, Carroll County School System's board chair explained, "This unique achievement recognizes Carroll County's innovative design and implementation of our projects and programs, as well as our positive impact on positively changing students' lives."
Carroll County was selected for this recognition because of its unique approach to professional learning called E3 Innovators – Educators Empowering Educators. This approach leverages various strengths throughout the teacher population to share and lead each other in innovative, engaging instructional practices. The system boosts multiple unique partnerships to support teacher and student learning, such as Southwire Company, Tanner Health Systems, Partners Advancing School Success and the West Georgia Youth Science and Technology Center.
"This award is a reflection of the intentional focus our district has undertaken to ensure effective learning environments for all students," explained Dr. Marissa Ogando, Director of Middle Schools and Professional Learning. "Once again, Carroll County School System shines as a leader in our state for innovation and excellence in education."
For more information about GSBA's Leading Edge Award, please visit https://gsba.com/.