(Carrollton, Ga. – October 19, 2018) Mrs. Rachel Kakesh, from 12 for Life, was named the 2019-2020 Carroll County School System Teacher of the Year at the Board Meeting on Thursday, October 18, 2018. Mrs. Kakesh has been with the Carroll County School System for 10 years. She began her professional career working as a laboratory and research assistant at the University of Alabama at Birmingham in the Immunogenetic DNA Diagnostic Laboratory. While she enjoyed her job, she quickly realized that her passion was sharing her love for science through education. Mrs. Kakesh currently teaches Chemistry and Physics to high school students who are enrolled in the 12 for Life Program.
Mrs. Kakesh's Teacher of the Year application will now be submitted to the State Department of Education where she will compete for the 2019-2020 Georgia Teacher of the Year. The state winner will be selected in the Spring of 2019.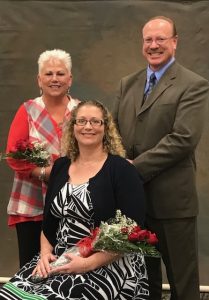 Mr. Phillips Cherry of Temple High School was named first runner-up, and Mrs. Cinda Skelton of Mount Zion High School was named second runner-up. All 26 nominees from each school were also recognized at the celebration.
"Carroll County School System is proud to recognize all of this year's nominees for Teacher of the Year and we appreciate the volunteer judges and community partners who made the event possible," said Scott Cowart, Superintendent of Carroll County Schools. "We are always excited to have the opportunity to celebrate our teachers who work so hard every day to positively change the lives of all students."
Carroll County Schools recognized community representatives who served as judges and sponsors who supported the Teacher of the Year Recognition Program. Judges included Dr. Jill Drake with The University of West Georgia, Mrs. Susan Hale with Synovus, and Kelly McEwen with Carroll EMC. Sponsorships and support were provided by Kroger, West Georgia Ambulance, Southern A & E, Smith's Floor Covering, Inc., J & R Construction & Development, Inc., Almon Funeral Home, Chick-fil-A, Rollins Automotive, Anderson's Florist, Inc., and Southern Sales & Marketing.
(written by: Kelley R. West Administrative Manager, Performing Arts Center; and, Charity Aaron, Director of Partnerships and Communication for WLBB Radio