(Carrollton, Ga. – October 24, 2019) Mrs. Tewanna Brown from Mount Zion Middle School was named the 2020-2021 Carroll County School System Teacher of the Year at the Board Meeting on Thursday, October 24, 2019.
Mrs. Brown has been an educator for 11 years and currently serves as a Business Education teacher. Not only do students benefit from her innovative instructional strategies, but employees at the school and district level do as well. Mrs. Brown conducts professional learning sessions for teachers to demonstrate how to improve student engagement in the classroom using technology. Additionally, she is a member of the school leadership team, responsible for the yearbook, and began the first middle school chapter of Future Business Leaders of America at Mount Zion Middle School. Mrs. Brown is a graduate of Mount Zion High School. She is very active in the community and truly embodies what it means to be a Mount Zion Eagle.
Mrs. Brown's Teacher of the Year application will now be submitted to the State Department of Education where she will compete for the 2020-2021 Georgia Teacher of the Year. The state winner will be selected in the Spring of 2020.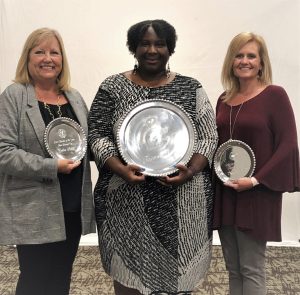 Debra Jo Sheats of Villa Rica Elementary School was named first runner-up, and Melanie Burns of Bowdon High School was named second runner-up. Nominees from each school were also recognized at the celebration.
"Carroll County School System is proud to recognize each of our Teacher of the Year nominees. They are shining examples of what it means to be premier and are truly dedicated to positively changing the lives of our students," said Scott Cowart, Superintendent of Carroll County Schools.
Carroll County School System recognized community representatives who served as judges and sponsors for the Teacher of the Year event.
Judges included: Mrs. Susan Hale, Bank of North Georgia; Dr. Jill Drake, University of West Georgia; and Mr. Jimmy Garrett, Midway Church.
Sponsors included: Centegix, Southern A&E, West Georgia Ambulance, Almon Funeral Home, J&R Construction, Rollins Automotive, Kroger, Chick-fil-a, and The Flower Cart.