The National Weather Service (NWS) held a Special Weather Briefing this afternoon in reference to the potential for flooding for our area this evening and overnight tonight and possible severe weather with additional flooding potential later this week.
There is the possibility of Significant Flash Flooding tonight for our area.  The flooding threat will extend into Wednesday with the potential of severe weather Wednesday night into Thursday morning.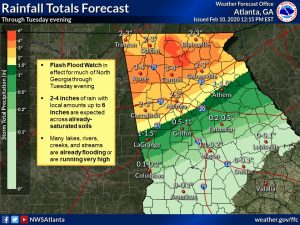 Tonight into Tuesday – A frontal boundary is stalling out across our region and is continuing to produce very heavy rain for our area.  Currently for our area the forecast is showing from 2-4 inches of rain overnight tonight.  It should be noted that the Storm Prediction Center (SPC) has included northern Carroll County and all of Haralson County in a High Risk for Excessive Rainfall and the remainder of Carroll County in a Moderate Risk for Excessive Rainfall.   It is very unusual for the SPC to issue this type of notice for Georgia.  Some of the model runs are showing as high as 5 inches of rain in Carroll and Haralson County over the next 24 hours.  Flash Flood warnings have already been issued for some Alabama counties.
Wednesday into Thursday – Possible severe weather with a line of storms that will develop and move across our area.  The main threats with the Wednesday/Thursday system will be damaging winds, tornadoes and additional flooding.  The rain forecast for this system is an additional ½ inch.
Saturday – Monday – There is another system that will move into the area Saturday evening through Monday.  This system is forecast to produce widespread 2-3 inches across north Georgia.  With this weekend system, the total for the 7 day period will be widespread 5-7 inches with some pockets of 7-10 inches.  The normal February rainfall is 4.5 inches and we are currently 5 inches above normal since January 1.
Please monitor this changing weather event tonight and use extreme caution especially in areas where roadways are covered with water.