A local couple gained state recognition May 21 when singled out for praise by the Georgia Division of Family and Children Services during the third-annual Foster Caregiver Appreciation Luncheon in Atlanta.
Kevin and Kari Jarrett, of Carroll County, were honored as Foster Caregivers of the Year.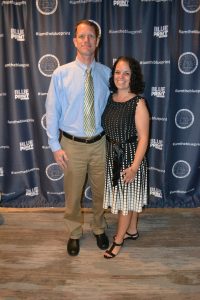 Mr. and Mrs. Jarrett were chosen from among foster parents nominated by case managers who make monthly visits and regularly interview the children in their care.
"We're proud of all of our foster parents because of the very vital role they play in caring for the state's 15,000 children in foster care," said Virginia Pryor, director of the state's child-welfare agency. "These honored today, though, are very special because of the way they go above and beyond what we ask of caregivers."
Mr. and Mrs. Jarrett have fostered for five years and have been instrumental in supporting their local DFCS office. The Jarrett's church adopted Carroll County DFCS and allows the county to use their facilities for trainings, foster parent association meetings, IMPACT training and other events. Mr. and Mrs. Jarrett are mentors and strong supporters of birth parents. Even after reunification, they maintain contact with one of their first placements and his mother.
Mr. and Mrs. Jarrett are currently caring for a medically fragile child, whose prognosis was grim. With the constant love and support from the Jarretts, traveling back and forth several times a week from Carrollton to Columbus to nurture and bond with this child, her condition has improved dramatically.
The Jarretts took it upon themselves to learn how to parent a past foster child who was severely traumatized and could not communicate his needs. After much patience, love and learning, the child began to speak and grew to be loving and affectionate with his foster family. The Jarretts are committed to helping all the children they care for reach their full potential.
The honorees were celebrated at a luncheon at the Hilton Atlanta hotel. The master of ceremonies this year was Willie Moore Jr., a nationally syndicated radio personality who was adopted as a child.
The luncheon and awards are part of National Foster Care Month, an event to highlight the work of foster caregivers and to encourage others to step forward to either support foster parents or to become foster parents.
To learn more about being a foster parent, or ways to support them, call 1-800-210-KIDS or go to www.fosterGeorgia.com.