(Carrollton, Ga. – August 13, 2019) Carroll County School System is pleased to announce the addition of a Law and Public Safety pathway of study for high school students. In partnership with local first responders, students will be provided career-focused educational opportunities in the fields of law enforcement, criminal investigations, fire science, and Emergency Medical Technician. Fifty-four students are currently enrolled in the new program. In addition to classroom instruction led by Mrs. Dana Phillips, students will also engage in hands on learning opportunities through internships with our first responder partners.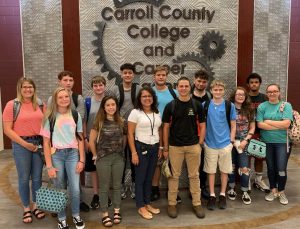 Chief Michael Mansour of the Villa Rica Police Department stated, "We are excited to partner with Carroll County Schools to prepare students for a career in public safety. The opportunities created by this program will help our department and our community."
Carroll County Sheriff Terry Langley added, "I am excited about the launch of the College and Career Academy's Law and Public Safety Program. I feel this is a great opportunity for students who have an interest in Public Safety, and we look forward to being a part of this innovative learning. I have been very impressed with the College and Career Academy and the goals it sets forth every year."
Carroll County School System is the only school district in the state that has two College and Career Academy campuses. In addition to the Law and Public Safety pathway, CCA offers many other award-winning programs such as, Engineering, Healthcare Science, Information Technology, and more.
Scott Cowart, Superintendent of Carroll County School System stated, "In Carroll County, we are focused on making sure every student graduates on time with skills to successfully enroll in a post secondary opportunity, enlist in a branch of our military, or possess the skills necessary to gain productive employment. The Law and Public Safety Pathway is another vehicle to support our students and help our community with an area of need. We are fortunate to live in a community with partners who value education and fully support our efforts to offer students premier experiences."