CARROLLTON, GA – A Carrollton family known for its decades-long loyalty to Carrollton City Schools continues to bolster that commitment financially by making substantial contributions to an endowment fund established just a few years ago.
Laurie Fleck, executive director of the Carrollton City Schools Education Foundation, announced Jewell and Earlene Bryson this past spring made another contribution, this time $30,000, to the Bryson-Caylor Family Fund.
"Contributions to the foundation focus on three key areas – teacher grants, scholarships, and field trips and other enrichment experiences for our students," said Fleck. "The Bryson family serves as a perfect example of how and why people give to the foundation."
"It is an honor and a blessing to be able to give something back to public education and our community," said Earlene Bryson, who noted the contribution was made in honor their parents, Minnie Morgan Bryson and Earle and Neta Riddle Caylor, in addition to countless coworkers, educational leaders, parents, and students who have given their lives meaning over the years.
Fleck noted the Bryson family's ties to education not only are personal , but professional. Jewell Bryson is a retired University of West Georgia professor and Earlene Bryson dedicated her working life to Carrollton City schools as a teacher, counselor and district director for almost two decades.
"This family's donation falls in line with the financial commitment our own teachers make to support our mission," said Fleck. She said close to 70 percent of all employees contribute to the Employee Giving Fund, an $80,000 endowment that is earmarked for teacher grants.
The Brysons' own son, David Bryson, is one of them. He has been a Carrollton High School English teacher since 2014.
"As an alum and teacher at CHS, I give a small monthly contribution directly from my paycheck to give back to other teachers and their amazingly engaged classroom environments," he said. "Just $10-$20 a month per person can make a great impact on our school and community. I encourage others to do the same."
The foundation will launch at the end of this month its annual Golden Giving campaign, encouraging others in the community to follow the Brysons' lead. Fleck said Carrollton City Schools families will receive information about the campaign by mail and social media platforms to find out how they can offer their support.
Another Trojan family, the children of legendary football coach Charlie Grisham, set up an endowment in honor of their dad upon his death in 1999. This fund has awarded scholarships to Trojan athletes since 2000.
"Being a part of the foundation has given our family an opportunity to give back to our Trojans and schools," said Sherrie Grisham, daughter of the late coach. "We have had the chance to get to know some wonderful scholarship recipients who have gone on to do amazing things. The Grisham family is always grateful for the support of the Charlie Grisham Memorial Scholarship from our community. The foundation helps us continue to achieve our mission's focus to send Trojans to college."
Families like the Grishams and Brysons cite their commitment comes from grateful hearts wanting to give back to the community they love. Earlene Bryson summed it up this way:
"Contributing to the Carrollton City Schools Education Foundation is also a thank you to Supt. Dr. Mark Albertus, the Carrollton City Schools Board of Education, Principal David Brooks, and ALL the Carrollton City Schools educators and staff for what they are doing every single day to make kids' lives better," she said "We love public education!"
For more information about the Carrollton City Schools Education Foundation, visit www.carrolltoncityschools.net.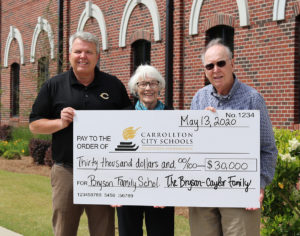 The Bryson-Caylor Family Fund received a $30,000 donation to the endowment this past spring. From left are David Bryson and his parents, Earlene and Jewell Bryson, who set up the fund just a few years ago.