Carrollton Police over the weekend charged a Bowdon woman with pimping and trafficking a person for labor servitude after investigators say she involved four teenagers in prostitution.
Lt. Tim Cole says officers were first made aware of the teens by a local store clerk after she saw the girls and "suspected something suspicious."
Officers met the teens and learned they were aged between 14-16, and had run-away from the KidsPeace facility in Bowdon the night before. Officers soon learned that the teens had been "propositioned to be sold for sex."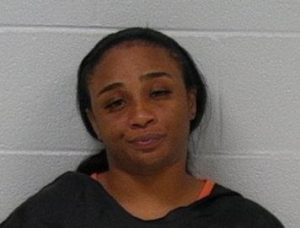 Cole says 25-year old Shanice Goodwin had found a room for the four  teens in a local motel and was setting up meetings with potential customers. "She asked the girls in the bluntest of terms, if they would be willing to participate," Cole said. "And, them being kids… not knowing any better, said yes."
Investigators believe Goodwin was planning to take the girls to Atlanta.
Carrollton Police and other agencies continue to investigate alleged incidents and additional arrests are possible. The teenagers were returned to state custody.
Goodwin remains behind bars in Carroll County after bond was denied during her first court appearance.