Carroll County will begin the search for a new fire chief later this week, following the resignation of Scott Blue.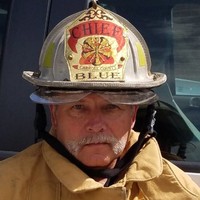 Blue leaves his role after almost five years in the head job.
Carroll County Chairman Marty Smith on Tuesday said "Chief Blue came here from Heard County and did exactly what we needed him to do for us in the time-frame we needed. That was to get us on a good rotation basis with our equipment, put a focus on things that had been overlooked, seeking out grant monies – things like that he was proficient at. Chief got us from A to B… and now we're  ready to go to C. We'll be looking for a candidate with a lot of gumption to continue moving that department forward."
Smith says the county will search nationwide for the next chief but will obviously consider local candidates, as well.
Before working for Carroll County, Blue spent ten years as Chief for Heard County Fire/ EMS and 2 ½ years as Chief for Worth County.
Carroll County EMA Director Tim Padgett has been appointed Interim-Fire Chief until the role is filled.