By Bryan Lindenberger and Sheryl Marlar
The nationwide opioid epidemic affects almost everyone. For young people planning to enter the healthcare profession, the crisis is of particular importance. Many such students will soon be on the front lines saving lives.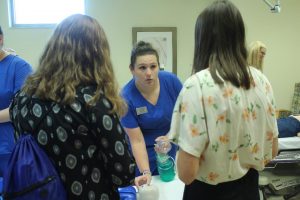 The University of West Georgia's Tanner Health System School of Nursing (THSSON) trains its students on how to cope with such issues hands-on.
Recently, the nursing students themselves had an opportunity to share what they have learned with 250 high school students from across the country and as far away as China. This visit was a day of hands-on learning in THSSON's Experiential Learning Center (ELC) at the UWG campus in Carrollton and at UWG Newnan.
The National Youth Leadership Forum (NYLF) on Medicine, a program created by Envision, chose THSSON as a preferred site to bring the students. The program provides career, leadership and technological learning opportunities for high-aspiring students across the country.
"The ELC team and THSSON nursing students provided authentic educational experiences ranging from assessment to CPR in realistic situations," said Shelly Crager, director of the ELC. "The goal was to allow the visiting students to have a fun and positive learning experience and discover a passion for healthcare."
She added that the day of learning would be of great value not only to the visiting students, but also to the THSSON nursing students as they gained confidence in teaching what they have learned.
"We are excited to have been approached by Envision to provide healthcare simulated experiences to high school students interested in exploring various healthcare career options," Crager said.
The Carrollton campus and UWG Newnan hosted 125 students each for the day. Nursing students provided presentations to expose students to the opioid crisis and how to recognize an overdose situation.
Students then circulated through three separate nursing stations which simulated various crisis situations that included assessment and treatment, CPR on a realistically-responsive mannequin and, lastly, responding to a patient in a simulated emergency room.
Colleen Needham, the simulation nurse educator at UWG Newnan, described a scenario as one where a car pulls up outside the emergency room doors and literally dumps the patient there before pulling away.
"Staff brings him in and puts him in a bed, where he is unresponsive," Needham explained.
UWG nursing students then guided the visiting students through this dramatic, crisis situation.
"Through the simulation, they must decide what they should check and how best to intervene when moments are critical," Needham said.
She saw the day as a great learning opportunity, not only for the visiting students, but for UWG's nursing students as they guided the activities.
"Our students are intimately involved as part of a service-learning project," Needham explained. "Others are working with homeless or other populations across Coweta and Carroll County. Our students came up with the idea to address the national opioid crisis."
Nancy Capponi, associate dean of undergraduate programs, was instrumental in coordinating the student visit at THSSON and sees the benefits it provides.
"This event promotes collegiality between faculty, staff and nursing students in THSSON and with potential UWG students," Capponi concluded. "The event provided an opportunity for everyone involved to learn, teach, and share information and perspectives valuable to all."