By Bryan Lindenberger
Dr. Christopher Jett, associate professor of mathematics at the University of West Georgia, was recently awarded the prestigious 2019 Early Career Award from the Association of Mathematics Teacher Educators (AMTE). The ceremony took place at AMTE's annual conference held this year in Orlando, Florida.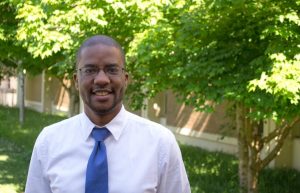 "This acknowledgment is truly a great honor," Jett said. "I want to thank the entire mathematics department at UWG for their strong support and encouragement."
The award acknowledges Jett for his distinguished record of teaching, research, service and leadership. He has been widely published in such prestigious journals as "The Journal of Negro Education," "The Journal of African American Studies," and soon, "The Journal for Research in Mathematics Education."
Adding to this success, Jett has also been named a recipient of the Presidential Early Career Award for Scientists and Engineers (PECASE). PECASE is considered the highest honor bestowed by the U.S. government in recognition of scientists and engineers beginning their independent research careers.
But Jett's interest in education and mathematics goes further back than his lauded career as a professor. Even as a child, he showed particular interest and aptitude for both math and education. He tutored other children in his neighborhood as well as his younger siblings, always assuming the role of math teacher when they played "school."
A graduate of East High School in Memphis, Tennessee, Jett joined UWG's College of Science and Mathematics faculty in 2012. There he teaches a range of math courses such as Quantitative Skills and Reasoning.
Jett's current research includes a major five-year grant funded by the National Science Foundation's (NSF) prestigious Faculty Early Career Development (CAREER) Program.
"I interview African-American undergraduate students to better understand how to help them succeed in STEM," Jett said, referring to the areas of science, technology, engineering and math. "The interviews examine many factors, including the individual student's previous educational experience and even home life to see what positively influences these young men."
The first four years of the project focus on working with students of Clark Atlanta University, Georgia State University, Georgia Tech and Morehouse College. The fifth year of the project is then devoted to qualitative analysis of the interviews.
"Qualitative analysis involves getting past what can be expressed simply in numbers and digging into the personal stories of the individual students," Jett said.
Jett's analysis also involves the use of critical race theory and black masculinity theory, which place issues of race and racism at the forefront of scholarly evaluation.
"Issues of race and racism are too often overlooked in research projects," Jett said. "This work comes at an important time in our society, as many people and communities struggle with racial tensions."
Jett believes projects like his can help change individual lives, but potentially at a broad scale. With education and training becoming highly focused on STEM learning in recent years – and STEM graduates in great demand for high-paying jobs – Jett's working to change the narrative of how black men are perceived.
"My research helps show African-American men can be mathematically successful, and we can contribute to advances in science and technology," Jett said. "By listening to African-American men who are succeeding and achieving in STEM, we learn from the student perspective what institutional practices are truly working."