CARROLLTON, GA – With a new Carrollton High School senior class ushered in Aug. 2, the former class is now on its way to college, careers, or the military with the majority – 73 percent of the graduates – selecting college as their next step.
Of the Class of 2018's 371 graduates, 272 have been accepted to a total of 133 schools and have committed to attend 69 of them across the country, according to statistics compiled by the CHS Guidance/Career Center.
Graduates will be attending prestigious institutions such as Vanderbilt University, Massachusetts Institute of Technology,  Purdue University, United States Nuclear Power School, and Williams College, while others will attend top regional research universities such as Georgia Tech, the University of Georgia, Augusta University, Georgia State University, the University of North Carolina at Chapel Hill, University of Alabama, and Auburn University. Of the class, 121 graduates plan to attend state universities, such as the University of West Georgia here in Carrollton, Columbus State,  Kennesaw State, Georgia Southern, Albany State and others.
Private institutions also are well represented and include Berry College, Clark Atlanta University, Savannah College of Art and Design, Mercer University, Emory University and a host of others nationwide.
Technical colleges are also in the mix. Twenty-eight graduates selected West Georgia Technical College with many on track to complete programs started while they were dually enrolled as CHS students.
Many top-tier graduates applied to and were accepted by multiple schools, but could only choose one to attend. This included 12 students who were accepted by Georgia Tech, with seven attending; and 39 accepted by the University of Georgia, with 23 attending.
"The acceptance rates and rates of attendance of the members of the Class of 2018 demonstrate – once again – that a Carrollton High School graduate performance exceeds expectations," said CHS Principal David Brooks. "I commend our faculty but also recognize this preparation began many years earlier, and am truly grateful for what the lower grades have done to bring us students of this caliber."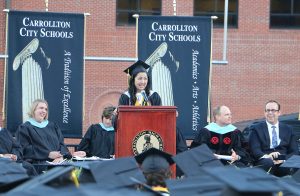 Carrollton High School Class of 2018 Valedictorian Amber Zheng gives her graduation speech at the May 18 commencement ceremony in Grisham Stadium.
CARROLLTON HIGH SCHOOL CLASS OF 2018
COMPLETE LIST OF COLLEGES AND UNIVERSITIES
Alabama Agricultural and Mechanical University
Albany State University
Andrew College
Arkansas Baptist College
Art Institute of Atlanta
Atlanta Technical College
Auburn University
Augusta University
Baylor University
Belmont Abbey College
Berry College
Bethune-Cookman University
Bryan College
Charleston Southern University
Clark Atlanta University
Coastal Carolina University
College of Coastal Georgia
Columbus State University
Dalton State College
Dean College
Delta State University
Ellsworth Community College
Elon University
Emmanuel College
Emory University
Fashion Institute of Technology
Georgia College and State University
Georgia Highlands College
Georgia Institute of Technology
Georgia Southern University
Georgia State University
Gordon State College
Highland Community College
Hutchinson Community College
Jacksonville State University
Kennesaw State University
Liberty University
Lindsey Wilson College
Maryville College
Massachusetts Institute of Technology
Mercer University
Methodist University
Middle Georgia State University
Mississippi State University
Murray State University
Piedmont College
Point University
Purdue University
Savannah College of Art and Design
Savannah State University
Savannah Technical College
Shorter University
Southeastern University
Southern Union State Community College
United States Navy Nuclear Power School
University of Alabama
University of Alabama at Birmingham
University of Arkansas at Fort Smith
University of Colorado Boulder
University of Georgia
University of Mississippi
University of Nebraska
University of North Georgia
University of Tennessee at Chattanooga
University of West Georgia
Valdosta State University
Vanderbilt University
West Georgia Technical College
Williams College