Carroll County and Carrollton City Schools recently named their Teachers of the Year, and nearly three-quarters of them are University of West Georgia alumni.
This came as no surprise to Dr. Laura Smith, interim dean of UWG's College of Education (COE).
"The College of Education is excited to learn that 21 of the 29 Teachers of the Year in these two local school systems are graduates of our educator preparation and leadership programs," she declared. "Since 1957, COE has been a strong leader in educator preparation in our region, state and beyond. We value our collaborative partnerships with our area school districts to prepare exceptional and innovative educators."
John Garner '08 '13 '20 was named Teacher of the Year at Temple High School (THS) and was recognized as the system-wide Teacher of the Year for Carroll County Schools shortly after. The triple alumnus received his bachelor's degree in history at UWG before earning his master's and specialist degrees in secondary education and teaching.
Garner – who leads the THS wrestling and cross country programs in addition to teaching history – is now in the running for state Teacher of the Year. The top 10 finalists will be announced in the spring.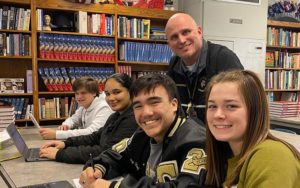 Originally focused on a career in law enforcement, Garner often found himself mentoring kids while working loss prevention.
"I kept seeing kids get in trouble," he recalled. "I decided I could be way more productive and give back a lot more if I was in the classroom working with students on a daily basis."
So he set his sights on education. The rest is, well, history.
"Once I got here, I fell in love with UWG," Garner said. "When I got into the College of Education and history departments, that's when the fire was really lit under me. The professors, especially my mentor Dr. Judy Butler, were all willing to go above and beyond to help. I took little lessons from each one and apply them to my classrooms today."
Robby Blakemore was named Teacher of the Year for Carrollton High School (CHS). The 2001 graduate received his degree in finance from UWG's Richards College of Business.
Like Garner, the path to teaching included several detours for Blakemore, who teaches computer science at CHS. He first majored in chemistry and then was charmed by the "alluring ups and downs of the stock market" and changed to finance. He began his professional career as a financial advisor, which he described as very rewarding – until the economic downturn in the early 2000s.
"I have always loved learning new things and teaching them to others," Blakemore said. "As I reflected on my next career move, I recalled that I loved teaching people the concepts from my education, and that gave me the idea to explore teaching."
Blakemore said that even though he left the finance industry, what he learned at UWG is applicable to any career. Especially when it comes to problem-solving.
"The professors taught me 'how to know' instead of 'what to know,'" he concluded. "I approach teaching as a project manager. I'm always looking to integrate technology to solve authentic problems. However, instead of every student solving the same problem, I encourage them to solve problems unique to them. This has resulted in amazing projects that students take ownership in. Allowing them the autonomy to own their learning has been a big part of my success as a teacher."
Written and shared with WLBB Radio by Julie Lineback for UWG
CUTLINE:
Carroll County and Carrollton City Schools recently named their Teachers of the Year, and nearly three-quarters of them are University of West Georgia alumni.