The Moving Wall, a half-size replica of the Vietnam Veterans Memorial in Washington, D.C., will be coming to Centralhatchee later this month.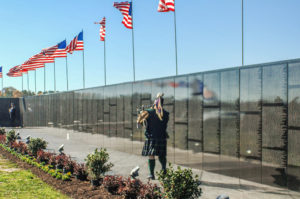 The replica will be on display at the Centralhatchee City Park, located at 139 Nutt Road, Franklin.
The Moving Wall will be escorted to the Centralhatchee City Park from Carrollton on Wednesday, Oct. 27 from the Holiday Inn Express & Suites, located at 1545 U.S. Highway 27 in Carrollton. It's scheduled to leave at 9 a.m. and arrive in Centralhatchee by 10 a.m.
After arriving, the wall will be unloaded and assembled on the Centralhatchee Park Ballfield.
An opening ceremony is set for Thursday, Oct. 28 at 9 a.m.
While at Centralhatchee City Park, the wall replica will be available for viewing daily before it leaves the area. A closing ceremony is scheduled for Nov. 1 at noon.
The Town of Centralhatchee began the process of bringing the Moving Wall to town in 2018. Originally slated to come to Centralhatchee in 2020, the event was postponed due to the COVID-19 pandemic.
The Moving Wall is different from the Traveling Wall, which came to Newnan in 2011. The Traveling Wall is a one-quarter size replica of the Vietnam Memorial, while the Moving Wall is half-size.
Volunteers are needed for the event, which requires 25 per shift for a total of 50 volunteers per day. Shifts are broken into 9 a.m. to 2 p.m, and from 2 p.m. to 8 p.m.
Two volunteers are needed each night for the over-night shift beginning at 8 p.m.
Security volunteers are needed each day to assist with crowd control during the normal operating hours.
On Saturday, Oct. 30, a cookout of BBQ and fixings will be provided for all veterans plus one guest from 11 a.m. to 2 p.m.
Schools who are interested in planning a trip to visit the monument are encouraged to contact Centralhatchee City Clerk Linda Rogers at 770-854-5801 or by emailing lindarogers@centralhatchee.com .
The event is sponsored by the Heard County American Legion Post 148 and the Town of Centralhatchee.
Article written BY CLAY NEELY
clay@newnan.com